Triple Threat Chocolate Keto Coconut Brownie Ice Cream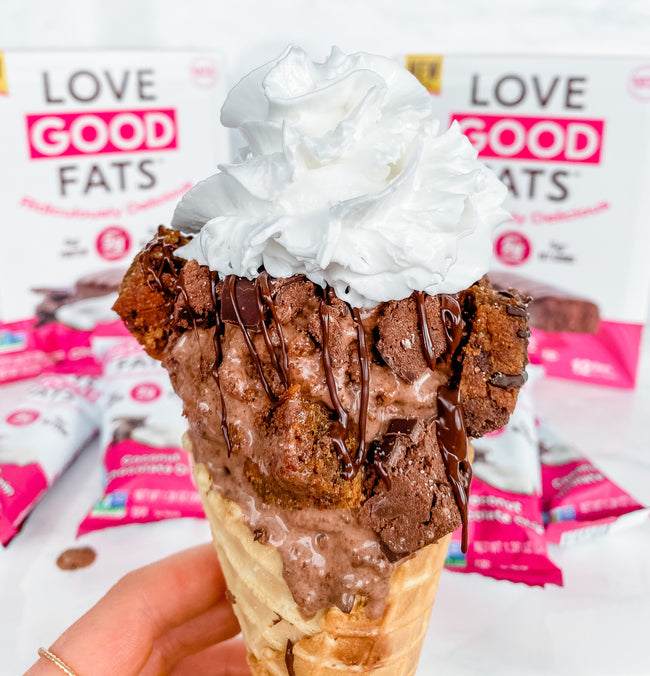 If you like Coconut and love Chocolate, this keto friendly, low carb, low-sugar ice cream treat can be a healthy choice on a hot summer day.
Serves : 5-10 persons
INGREDIENTS
1 can full-fat coconut milk, refrigerated
½ cup xylitol
2 tsp vanilla extract
¼ tsp xanthan gum
¼ tsp sea salt
3 tbsp LGF Chocolate Shake Mix
2 tbsp raw cacao powder
4 cups heavy whipping cream
2 Love Good Fats Coconut Chocolate Chip Keto Bars, crumbled
Optional Toppings
Keto Double Stuffed Cookie Dough Brownies, chopped
Love Good Fats Coconut Chocolate Chip Keto Bar, chopped
Dark Chocoalte, melted
DIRECTIONS
1.  Add the coconut milk, xylitol and vanilla to a small saucepan and bring to a low boil. Whisk until evenly combined. Add the xanthan gum and sea salt and whisk again.
2.  Transfer the mixture to a small bowl and place in the fridge to cool for 1 hour.
In a large bowl, add the heavy whipping cream, chocolate shake mix and cacao powder and beat using a handheld mixer until a whip cream-like consistency forms. Be sure not to overbeat the cream.
3.  Add the coconut milk mixture and beat again until the ice cream is thick and peaks begin to form.
4.  Fold in the LGF Coconut Chocolate Chip Keto Bar crumbles using a spatula.
Pour the mixture into a large loaf pan (or baking dish) and place in the freezer for 3-4 hours.
5.  Before serving the ice cream, remove it from the freezer 30 minutes before and set it on the counter. Run the serving spoon under hot water to help scoop the mixture!
6.  Scoop the ice cream into a bowl (keto-friendly) or waffle cone, top with keto double stuffed brownie pieces, LGF Coconut Chocolate Chip Keto Bar chunks and drizzle with melted dark chocolate.