Peppermint Patty Smoothie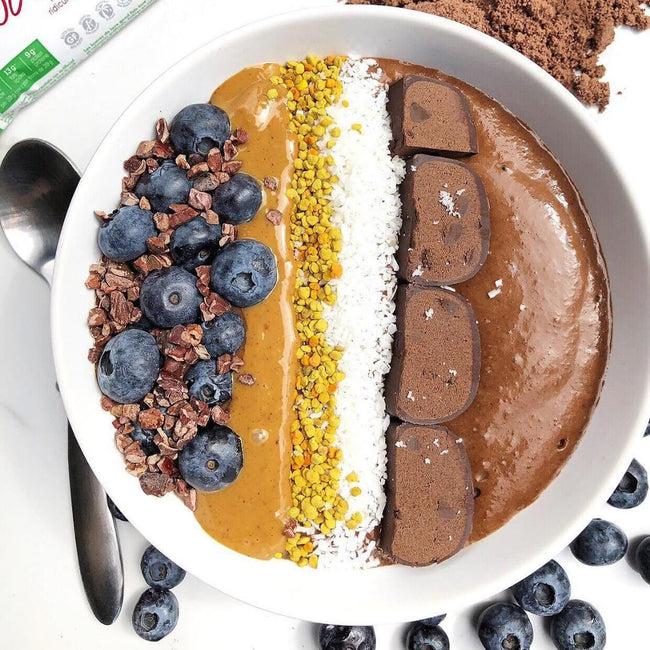 Refresh your day with the dynamic duo of mint and chocolate in the form of a smoothie that is keto-friendly, low carb, low-sugar and keep you full for longer during the day.
Serves : 1 person
Calories : 785 per serving
carbs : 46g       fats : 58g       protein : 26g
INGREDIENTS
for Smoothie
3 tbsp Love Good Fats Shake Mix
½ avocado
1 tbsp cacao powder
1 tsp chia seeds
1 cup unsweetened almond milk
½ cup ice cubes
⅛ tsp peppermint extract (or 1-2 drops food-grade peppermint oil)
Optional: 5-10 drops stevia
for Toppings (optional)
1 Love Good Fats Mint Chocolate Chip Bar, chopped
1 tbsp peanut butter
1 tbsp unsweetened shredded coconut
2 tbsp fresh blueberries
½ tbsp cacao nibs
1 tsp bee pollen
DIRECTIONS
Add the smoothie ingredients to a high-speed blender and blend on high until the mixture is smooth and creamy.
Pour the smoothie mixture into a bowl and top with superfoods of your choice!

The values are based on a 2,000 calorie diet, so your values may change depending on your calorie needs. The values here may not be 100% accurate because the recipes have not been professionally evaluated nor have they been evaluated by the U.S. FDA.