Keto Coffee and Cream Ice Cream with Cookie Dough Chunks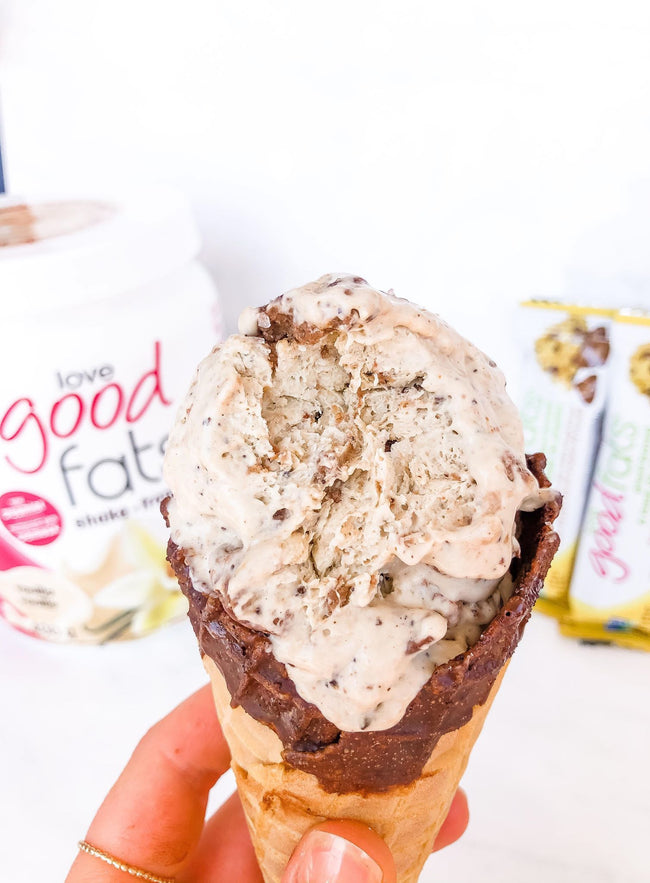 Creamy coffee ice cream with hints of vanilla and bites of Love Good Fats' chocolate chip cookie dough bar. This dessert will be your favorite ice cream in one bite. This recipe is low carb, low sugar, and keto-friendly.
Serves : 10
carbs : 11g       fats : 25g       protein : 2g
INGREDIENTS
1 can full-fat coconut milk, refrigerated
1/2 cup xylitol
2 tsp vanilla extract
1/4 tsp xanthan gum
1/4 tsp sea salt
1 vanilla bean, scraped
4 cups heavy whipping cream
2 tbsp ground coffee
2 Love Good Fats Chocolate Chip Cookie Dough bars, crumbled
Optional: Waffle cones to serve
DIRECTIONS
* Add the coconut milk, xylitol, and vanilla to a small saucepan and bring to a low boil. Whisk until evenly combined. Add the xanthan gum and salt and whisk again.
* Transfer the mixture to a small bowl and place in the fridge to cool for 1 hour.
* In a large bowl, add the heavy whipping cream and vanilla bean and beat using a handheld mixer until a whipped cream-like consistency form. Be sure not to overbeat the cream.
* Add the coconut milk mixture and beat again until the ice cream is thick and peaks begin to form. Fold in the ground coffee and cookie dough bars.
* Place a freezer bag in a large loaf pan, pour the ice cream mixture into the bag, press the air out, and seal the bag. Freeze for 3-4 hours.
* Before serving the ice cream, remove from the freezer 30 minutes before and set on the counter. Run the serving spoon under hot water to help scoop the mixture!